First Team System Consultant:
Tom Nicotera -
Email Toll Free: 877.272.5430

GridIron Backyard Residential Football Goal Post
These goals are warranted for single family, residential application only. If you install them in a public schoolyard or like public application, the warranty will be void.
First Team offers the revolutionary Gridiron backyard football goalpost. At last, a backyard football goalpost that is premium quality! Why settle for small, flimsy, plastic goalposts offered by other manufacturers? The Gridiron football goalpost is built solid from the ground up. The vertical post and crossbar are constructed from 3" aluminum. 1 1/2" diameter uprights are also made from aluminum. The crossbar stands 6'6" above the playing surface and measures 7' wide. The uprights are 7'4" tall above the crossbar. All parts are coated with official safety yellow powder coat paint. Red wind streamers are included.
The Gridiron football goalpost is light weight and easy to carry due to aluminum construction. The unit folds for easy storage. Several Gridiron combo packages are available so you can choose the kit that suits your backyard best. Choose Gridiron Complete to receive post pad and removable ground socket. We will even print your name on the post pad FREE! All Gridiron package options are covered by First Team's Lifetime Limited Warranty.
GRIDIRON BASIC - post and wind direction streamers - $749 / each
GRIDIRON EXPRESS - post, pad, wind direction streamers - $849 / each
GRIDIRON COMPLETE - post, ground sleeve, pad, wind direction streamers - $1059 / each
Freight applies. Estimated Central US $165. East and West Coasts $240.
GridIron Assembly
GridIron Submittal
FREE lettering on padding with purchase of any goal post!
2-color letters, maximum 10 letters, 3 font styles to choose from, 16 color options.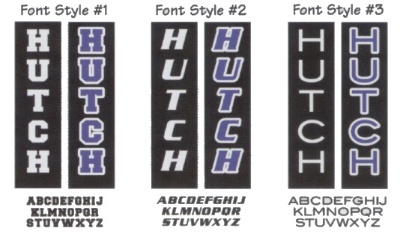 Pricing:
Fill out and submit this form to receive IMMEDIATE initial pricing. Additional discounts on unit price and/or freight apply for multi-unit purchases. I will follow up with more information based on your specific interest and ship to zip code. MAKE SURE TO INCLUDE YOUR EMAIL ADDRESS or PHONE. - Tom Nicotera